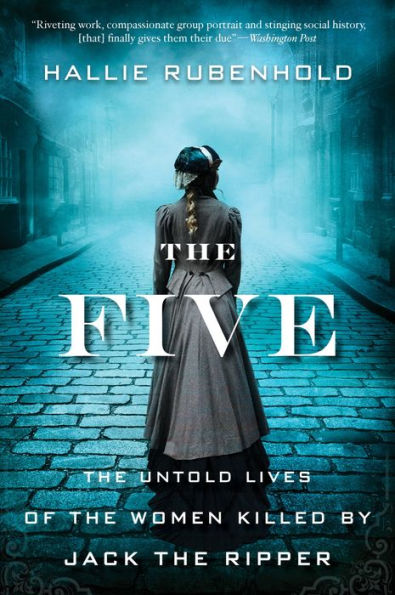 This week for the Fiction Friday feature, I am reviewing the biography, The Five: The Untold Lives of the Women Killed by Jack the Ripper by Hallie Rubenhold. This book was published in February 2019 by Doubleday and has a page count of 368 pages. The audiobook is read by Louise Brealey and is 10 hours & 19 minutes in length. The following overview is provided from the B&N page: Polly, Annie, Elisabeth, Catherine, and Mary Jane are famous for the same thing, though they never met. They came from some of London's wealthiest and poorest neighborhoods, from the factory towns of middle England, and from Wales and Sweden. They wrote ballads, ran coffeehouses, lived on country estates; they breathed ink dust from printing presses and escaped human traffickers. What they had in common was the year of their murders: 1888. The person responsible was never identified, but the character created by the press to fill that gap has become far more famous than any of these five women. Now, in this gripping narrative of five lives, Hallie Rubenhold finally sets the record straight and gives these women back their stories.
This is a fascinating read. This book provides so much information and context to the conditions of life in the White Chapel section of London during the time of Jack the Ripper. There is so much information that I had never heard about each of the women. The author provides context for how and why each of the women may have been accessible for the Ripper to murder them. Honestly, this has been the best look at the Ripper that I have read. I highly recommend this read to everyone but especially those who are into Ripper theories.
I give this book 5 out of 5 stars.
Tomorrow for the Missing Person Saturday feature, I am highlighting the missing person's case of Andrei Campana. Next week for the Fiction Friday feature, I am reviewing the dystopian novel, The Handmaid's Tale by Margaret Atwood. Until then keep reading on; Nerd out!
Connect with me on social media:
If you would like to support this blog, please share it with your friends and family. You can also support this blog for as little as $1/month on Patreon. By being a supporter on Patreon you will receive rewards and access to exclusive content. All support received through Patreon goes towards the costs associated with the blog. https://www.patreon.com/tshathaway