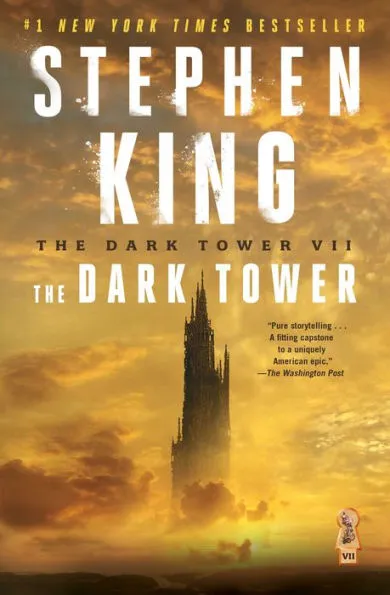 This week for the Fiction Friday feature, I am reviewing the fantasy novel, The Dark Tower by Stephen King. This book was published in September 2004 by Grant and has a page count of 845 pages. The audiobook is read by George Guidall and is 28 hours & 50 minutes in length. The following overview is provided from the B&N page: Roland Deschain and his ka-tet have journeyed together and apart, scattered far and wide across multilayered worlds of wheres and whens. The destinies of Roland, Susannsah, Jake, Father Callahan, Oy, and Eddie are bound in the Dark Tower itself, which now pulls them ever closer to their own endings and beginnings…and into a maelstrom of emotion, violence, and discovery.
I loved how this wrapped up the story of the Dark Tower. I appreciate the fact that King used his own near-fatal accident as a plot point. I will forever love how he placed a piece of himself in this work and in the world that he has weaved. I think this series highlights why King is such an amazing writer. You spend so much time with the characters that you see he is a master of his craft. The characters are the reason to read his works. They are well developed as they are complex and flawed. I highly recommend this series.
I give this book 4 out of 5 stars.
Tomorrow for the Missing Person Saturday feature, I am highlighting the missing person's case of Selwyne Anette Richardson. Next week for the Fiction Friday feature, I am reviewing the biography, The Five: The Untold Lives of the Women Killed By Jack the Ripper by Hallie Rubenhold. Until then keep reading on; Nerd out!
Connect with me on social media:
If you would like to support this blog, please share it with your friends and family. You can also support this blog for as little as $1/month on Patreon. By being a supporter on Patreon you will receive rewards and access to exclusive content. All support received through Patreon goes towards the costs associated with the blog. https://www.patreon.com/tshathaway