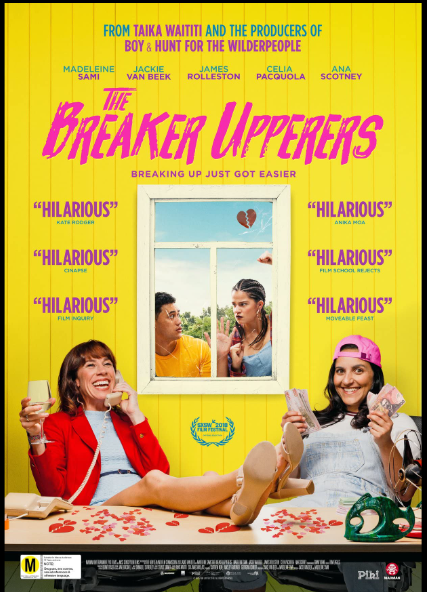 This week for the Movie Monday feature, I am reviewing the comedy film, The Breaker Uppers. This movie was released in 2018 and has a running time of 1 hour & 50 minutes. This film is rated TV-MA for the following reasons: mild sex & nudity; mild violence & gore; moderate profanity; moderate alcohol/drugs/smoking; mild frightening & intense scenes. Starring in this movie are Madeleine Sami, Jackie van Beek, and James Rolleston. The following overview is provided from the IMDB page: For the right price, BFFs Jen and Mel will ruthlessly end any romance. But when one grows a conscience, it threatens to derail their relationship.
I thought this film was funny. I enjoyed the friendship dynamic. The struggles that they experience as friends are relatable. However, some of the experiences for me have not been a thing. I enjoyed the cast and felt they did a wonderful job. This was a cute film and worth it to check out if you're looking for a funny film to watch.
I give this film 4 out of 5 stars.
Tomorrow for the TV Tuesday feature, I am reviewing the action-adventure series, The Falcon and The Winter Soldier. Next week for the Movie Monday feature, I am reviewing the animated adventure film, Charming. Until then keep consuming the cinema; Nerd out!
Connect with me on social media:
If you would like to support this blog, please share it with your friends and family. You can also support this blog for as little as $1/month on Patreon. By being a supporter on Patreon you will receive rewards and access to exclusive content. All support received through Patreon goes towards the costs associated with the blog. https://www.patreon.com/tshathaway