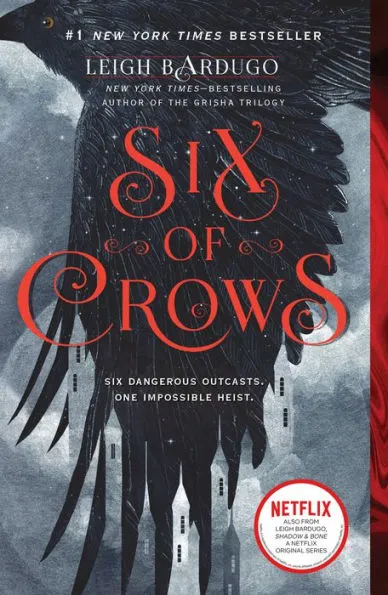 This week for the Fiction Friday feature, I am reviewing the young adult fantasy novel, Six of Crows by Leigh Bardugo. This book was published in September 2015 by Henry, Holt, & Colt and has a page count of 465 pages. The audiobook is read by Jay Snyder, Brandon Rubin, Fred Berman & more and is 15 hours & 4 minutes in length. The following overview is provided from the B&N page: Ketterdam: a bustling hub of international trade where anything can be had for the right price—and no one knows that better than criminal prodigy Kaz Brekker. Kaz is offered a chance at a deadly heist that could make him rich beyond his wildest dreams. But he can't pull it off alone…. A convict with a thirst for revenge. A sharpshooter who can't walk away from a wager. A runaway with a privileged past. A spy known as the Wraith. A heartrender using her magic to survive the slums. A thief with a gift for unlikely escapes. Six dangerous outcasts. One impossible heist. Kaz's crew is the only thing that might stand between the world and destruction—if they don't kill each other first.
I loved this book. The different perspectives give an emotional charge to the story that I don't think you would have without them. I also appreciated knowing the motivations for certain character's actions. The story of how everyone came to be in the gang was interesting as well as their motivations for staying. I highly recommend this novel to fans of Shadow & Bone.
I give this book 4 out of 5 stars.
Tomorrow for the Missing Person Saturday feature, I am highlighting the missing person's case of Darryl Lamont Barrick. Next week for the Fiction Friday feature, I am reviewing the crime mystery novel, The Colorado Kid by Stephen King. Until then keep reading on; Nerd out!
Connect with me on social media:
If you would like to support this blog, please share it with your friends and family. You can also support this blog for as little as $1/month on Patreon. By being a supporter on Patreon you will receive rewards and access to exclusive content. All support received through Patreon goes towards the costs associated with the blog. https://www.patreon.com/tshathaway