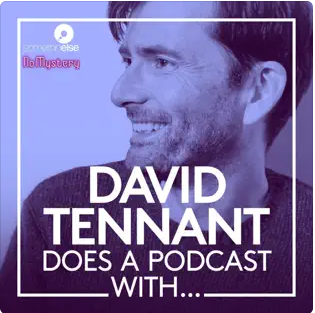 This week for the Spotcast Sunday feature, I am reviewing the arts podcast, David Tennant Does A Podcast With…. This show was last updated in October 2020. This podcast has an explicit language warning. There are 29 episodes to listen to at the time of writing. The following overview is provided from the Apple Podcast page: David Tennant, star of Doctor Who, Good Omens and Broadchurch, gets talking with the biggest names from TV, movies, comedy, and elsewhere. Featuring superstar names like Olivia Colman, James Cordon and Whoopi Goldberg. A Somethin' Else and No Mystery production.
This is a fantastic podcast. I love the stories that are shared on the show. My favorite episodes are probably Michael Sheen and Dan Levy. The conversations are interesting and give you glimpses into the inner workings of film/performance production. You can listen to individual episodes or entire seasons. There is no right or wrong way to listen to this podcast. I highly recommend this podcast.
I give this podcast 4 out of 5 stars.
Tomorrow for the Movie Monday feature, I am reviewing the comedy film, Bankrolled. Next week for the Spotcast Sunday feature, I am reviewing the news podcast, Intersectionality Matters. Until then keep listening on; Nerd Out.
Connect with me on social media:
If you would like to support this blog, please share it with your friends and family. You can also support this blog for as little as $1/month on Patreon. By being a supporter on Patreon you will receive rewards and access to exclusive content. All support received through Patreon goes towards the costs associated with the blog. https://www.patreon.com/tshathaway