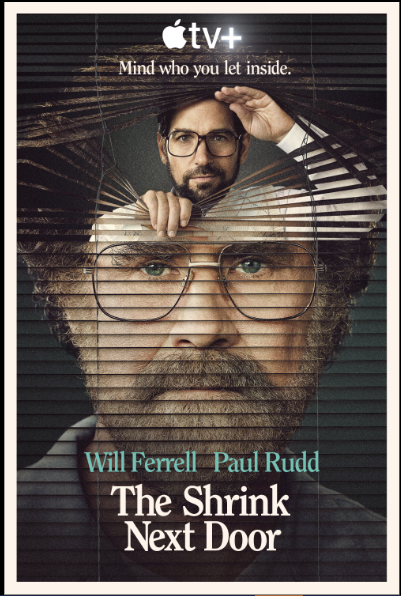 This week for the TV Tuesday feature, I am reviewing the comedic drama series, The Shrink Next Door. This show ran from 2021 to 2021. It is rated TV-MA with no additional information provided on the rating. There are 1 season for a total of 8 episodes. Each episode has a running time of approximately 40 minutes. Starring in this series are Will Ferrell, Paul Rudd, and Kathryn Hahn. The following overview is provided from the IMDB page: The story of Marty and the therapist who turned his life around – then took it over. When he meets Dr. Ike, Marty just wants to get better at boundaries. Over 30 years, he'll learn all about them – and what happens when they get crossed.
This was a fantastic adaptation of the podcast that I had listened to. I did not expect Will Ferrell and Paul Rudd to do as well in these roles since I am used to seeing them in comedies. So, I don't typically think of them when it comes to more serious roles. Kathryn Hahn was brilliant as Phyllis, Marty's sister. I also enjoyed the real-life updates that they included at the end of the series. This was a brilliant series and I highly recommend watching it whether or not you have listened to the podcast.
I give this show 4 out of 5 stars.
Tomorrow for the Missing Person Wednesday feature, I am highlighting the missing person's case of Kelly Jon Armstrong. Next week for the TV Tuesday feature, I am reviewing the dramatic adventure series, His Dark Materials. Until then keep binge watching the episodes; Nerd out!
Connect with me on social media:
If you would like to support this blog, please share it with your friends and family. You can also support this blog for as little as $1/month on Patreon. By being a supporter on Patreon you will receive rewards and access to exclusive content. All support received through Patreon goes towards the costs associated with the blog. https://www.patreon.com/tshathaway