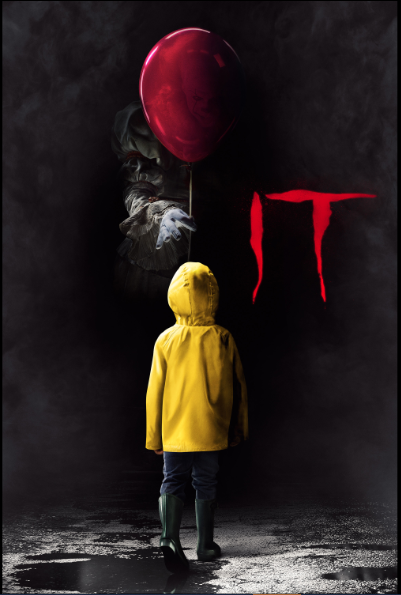 This week for the Movie Monday feature, I am reviewing the horror film, It. This movie was released in 2017 and has a running time of 2 hours & 15 minutes. This film is rated R for the following reasons: mild sex & nudity; severe violence & gore; severe profanity; mild alcohol/drugs/smoking; and severe frightening & intense scenes. Starring in this movie are Bill Skarsgard, Jaeden Martell, and Finn Wolfhard. The following overview is provided from the IMDB page: In the summer of 1989, a group of bullied kids band together to destroy a shape-shifting monster, which disguises itself as a clown and preys on the children of Derry, their small Maine town.
I absolutely love this film. This is a well-done remake. I think that Bill Skarsgard was beyond terrifying as Pennywise. He has such a haunting quality to his performance. I enjoyed the cast in this film. The only difference between this film and the original is that more money was given to this production. Thankfully with the extra funds, they didn't mess it up. As a horror fan, this is a must-watch film. This film has everything you could want out of a classic. I highly recommend it.
I give this film 4 out of 5 stars.
Tomorrow for the TV Tuesday feature, I am reviewing the comedy series, On the Verge. Next week for the Movie Monday feature, I am reviewing the horror film, It: Chapter 2. Until then keep consuming the cinema; Nerd out!
Connect with me on social media:
If you would like to support this blog, please share it with your friends and family. You can also support this blog for as little as $1/month on Patreon. By being a supporter on Patreon you will receive rewards and access to exclusive content. All support received through Patreon goes towards the costs associated with the blog. https://www.patreon.com/tshathaway