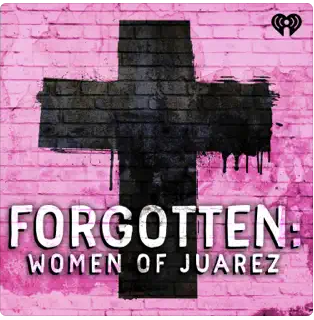 This week for the Spotcast Sunday feature, I am reviewing the society & culture podcast, Forgotten: Women of Juarez. This show was last updated in May 2021. This podcast has an explicit language warning. There are 24 episodes to listen to at the time of writing. The following overview is provided from the Apple Podcast page: In the border city of Ciudad Juárez, hundreds of women have gone missing. The ones that are found have strange symbols carved on their bodies, some have their wrists bound with shoelaces. All are discarded like garbage. The story of Forgotten investigates theories about what or who is responsible—a serial killer, organ traffickers, a Satanic Cult—and pursues an investigation with law enforcement on both sides of the border, terrified witnesses and corrupt authorities.
This is an excellent podcast. I had heard a little bit about the women missing disappearing, but it wasn't until I heard this podcast that I learned the true extent of it. The entire show is available in both English and Spanish. I think this podcast is important and should be listened to by everyone. There is a huge problem that needs the attention of the world on it. And unfortunately, because of the area and nature of what is happening, it is easily swept under the rug. Please consider listening to this podcast.
I give this podcast 5 out of 5 stars.
Tomorrow for the Movie Monday feature, I am reviewing the horror film, Fear Street: 1994. Next week for the Spotcast Sunday feature, I am reviewing the language education podcast, News in Slow Spanish Beginners (Latino). Until then keep listening on; Nerd Out.
Connect with me on social media:
If you would like to support this blog, please share it with your friends and family. You can also support this blog for as little as $1/month on Patreon. By being a supporter on Patreon you will receive rewards and access to exclusive content. All support received through Patreon goes towards the costs associated with the blog. https://www.patreon.com/tshathaway