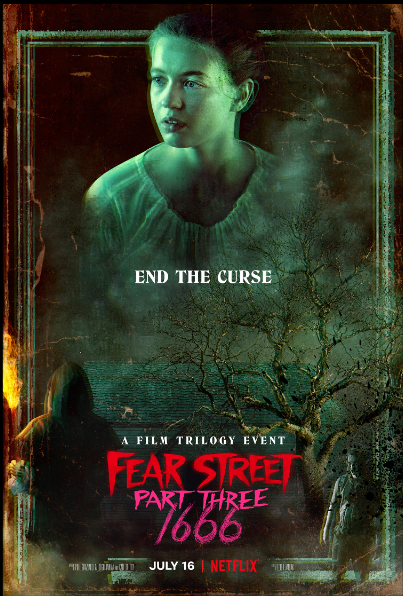 This week for the Movie Monday feature, I am reviewing the horror film, Fear Street: 1666. This movie was released in 2021 and has a running time of 1 hour & 54 minutes. This film is rated R for the following reasons: mild sex & nudity; severe violence & gore; moderate profanity; mild alcohol/drugs/smoking; and severe frightening & intense scenes. Starring in this movie are Kiana Madeira, Ashley Zukerman, and Gillian Jacobs. The following overview is provided from the IMDB page: The origins of Sarah Fier's curse are finally revealed as history comes full circle on a night that changes the lives of Shadysiders forever.
This was the perfect ending to this trilogy. I loved how even as the story travels back in time, it builds upon the modern one. The storytelling and ability to build on the foundation are top-notch. The final reveal was a fantastic payoff for all the misdirection that happens throughout the stories being told. I highly recommend this trilogy to horror fans.
I give this film 4.5 out of 5 stars,
Tomorrow for the TV Tuesday feature, I am reviewing the dramatic adventure series, His Dark Materials. Next week for the Movie Monday feature, I am reviewing the documentary film, Attack of the Hollywood Cliches. Until then keep consuming the cinema; Nerd out!
Connect with me on social media:
If you would like to support this blog, please share it with your friends and family. You can also support this blog for as little as $1/month on Patreon. By being a supporter on Patreon you will receive rewards and access to exclusive content. All support received through Patreon goes towards the costs associated with the blog. https://www.patreon.com/tshathaway