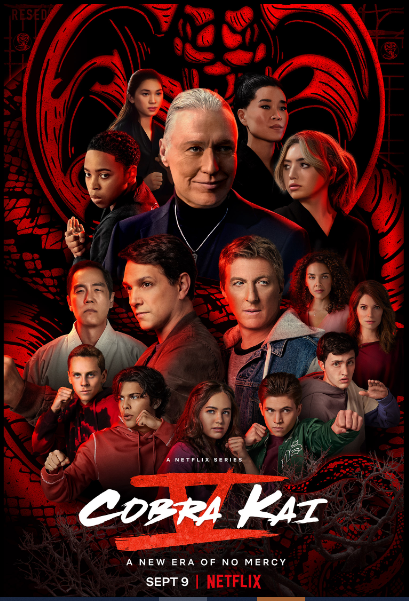 This week for the TV Tuesday feature, I am reviewing the action-comedy series, Cobra Kai. This show debuted in 2018. It is rated TV-14 for the following reasons: mild sex & nudity; moderate violence & gore; moderate profanity; moderate alcohol/drugs/smoking; and mild frightening & intense scenes. There are 5 seasons for a total of 50 episodes. Each episode has a running time of approximately 30 minutes. Starring in this series are Ralph Macchio, William Zabka, and Xolo Maridueña. The following overview is provided from the IMDB page: Decades after their 1984 All Valley Karate Tournament bout, a middle-aged Daniel LaRusso and Johnny Lawrence find themselves martial arts rivals again.
I have only seen the first Karate Kid movie and the Next Karate Kid which did not include the character of Danial LaRusso. I have always found LaRusso to be annoying which is why I never watched the other movies. I never found any character but Mr. Miyagi interesting and worth watching. Well, I should say that I love The Next Karate Kid which I saw first and then never touched anything else after meeting the whiny LaRusso. So, coming into this show I was a little concerned that I would be stuck watching characters I couldn't stand in a longer form than before. However, I love this show and keep coming back to it for the same reason, Johnny Lawrence. Johnny was a trash kid in the original films and well where the series picks up is exactly where I expected Johnny to be. Johnny definitely isn't the hero of this story and really none of the adults are. But the adults are messy and complicated in a real way. Johnny doesn't make the right decision each time and a lot of the time he makes completely selfish decisions. Yet, he grows through the experience and makes the smallest of steps towards winning me over. Daniel is and will always be annoying to me, nothing much for me has changed going from the movies to the show. I do appreciate that they don't expect the audience to have seen the movies and provide enough context including bits from the movies so each person watching can understand the stakes. This show is amazing and I highly recommend it.
I give this show 5 out of 5 stars.
Tomorrow for the Missing Person Wednesday feature, I am highlighting the missing person's case of Jessica A. Rickman. Next week for the TV Tuesday feature, I am reviewing the comedy series, The Letdown. Until then keep binge watching the episodes; Nerd out!
Connect with me on social media:
If you would like to support this blog, please share it with your friends and family. You can also support this blog for as little as $1/month on Patreon. By being a supporter on Patreon you will receive rewards and access to exclusive content. All support received through Patreon goes towards the costs associated with the blog. https://www.patreon.com/tshathaway