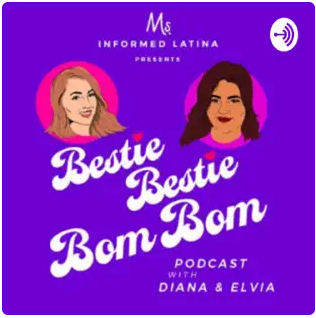 This week for the Spotcast Sunday feature, I am reviewing the education podcast, Bestie Bestie Bom Bom. This show was last updated in November 2020. There are 25 episodes to listen to at the time of writing. The following overview is provided from the Apple Podcast page: A Selena inspired podcast hosted by best friends, Elvia & Diana who have known each other for over 15 years. They go together como café con leche, agua con chocolate, and add a little spice to each other's lives. In this podcast they will share all the things they wish they would have learned growing up from career to relationships to wellness. Tune in to learn from them and their expert amigas as they help dance into adulthood by adding a little bidi bidi bomb om to your life.
The topics in this podcast were very relevant to my current life. I loved the energy of this pod, as nothing felt fake or overproduced. There is potential for growth and development. I would love it if they came out with more episodes as this is a good podcast.
I give this podcast 3.5 out of 5 stars.
Tomorrow for the Movie Monday feature, I am reviewing the horror film, It: Chapter 2. Next week for the Spotcast Sunday feature, I am reviewing the society & culture podcast, Forgotten: Women of Juarez. Until then keep listening on; Nerd Out.
Connect with me on social media:
If you would like to support this blog, please share it with your friends and family. You can also support this blog for as little as $1/month on Patreon. By being a supporter on Patreon you will receive rewards and access to exclusive content. All support received through Patreon goes towards the costs associated with the blog. https://www.patreon.com/tshathaway