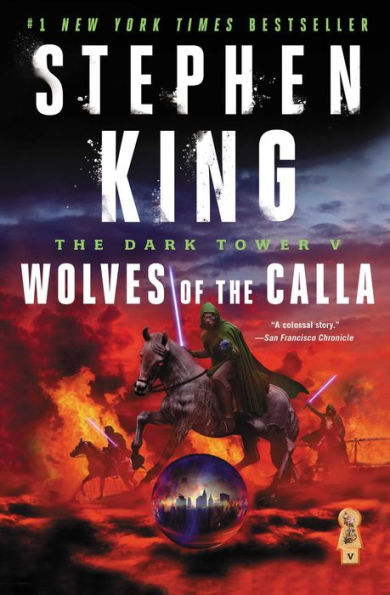 This week for the Fiction Friday feature, I am reviewing the fantasy novel, Wolves of the Calla by Stephen King. This book was published in November 2003 by Grant and has a page count of 714 pages. This is the fifth installment in The Dark Tower series. The audiobook is read by George Guidall and is 26 hours & 20 minutes in length. The following overview is provided from the B&N page: In the extraordinary fifth novel in Stephen King's remarkable fantasy epic, Roland Deschain and his ka-tet are bearing southeast through the forests of Mid-World. Their path takes them to the outskirts of Calla Bryn Sturgia, a tranquil valley community of farmers and ranchers on Mid-World's borderlands. Beyond the town, the rocky ground rises toward the hulking darkness of Thunderclap, the source of a terrible affliction that is slowly stealing the community's soul. The wolves of Thunderclap and their unspeakable depredation are coming. To resist them is to risk all, but these are odds the gunslingers are used to, and they can give the Calla-folken both courage and cunning. Their guns, however, will not be enough.
I really enjoyed this installment in the Dark Tower series. And I highly recommend that if you are going to consume this novel, get the audible book and listen to the author's note at the end. I think it shows a major reason why I like King as an author. This novel was exactly what I wanted for this leg of the journey. I am stoked to be on this journey with these characters. It was a little rocky for me at first. But I don't think this story would work in a more condensed format. It needs the length that it is for the characters to make the revelations they need. Absolutely recommend this series.
I give this book 4 out of 5 stars.
Tomorrow for the Missing Person Saturday feature, I am highlighting the missing person's case of Brandon Lee Sandoval. Next week for the Fiction Friday feature, I am reviewing the young adult magical realism novel, Elsewhere by Gabrielle Zevin. Until then keep reading on; Nerd out!
Connect with me on social media:
If you would like to support this blog, please share it with your friends and family. You can also support this blog for as little as $1/month on Patreon. By being a supporter on Patreon you will receive rewards and access to exclusive content. All support received through Patreon goes towards the costs associated with the blog. https://www.patreon.com/tshathaway