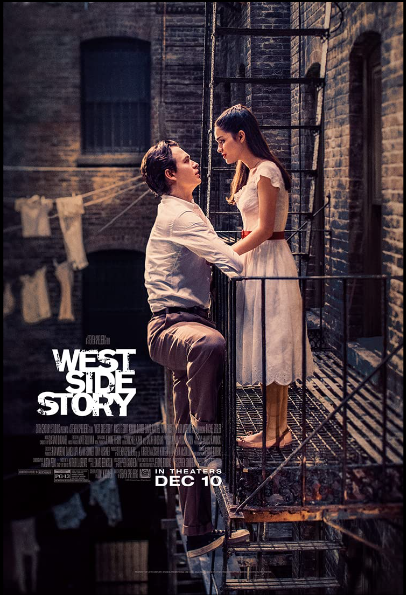 This week for the Movie Monday feature, I am reviewing the musical film, West Side Story. This movie was released in 2021 and has a running time of 2 hours & 36 minutes. This film is rated PG-13 for the following reasons: mild sex & nudity; moderate violence & gore; mild profanity; mild alcohol/drugs/smoking; and moderately frightening & intense scenes. Starring in this movie are Ansel Elgort, Rachel Zegler, and Ariana DeBose. The following overview is provided from the IMDB page: An adaption of the 1957 musical, West Side Story explores forbidden love and the rivalry between the Jets and the Sharks, two teenage street gangs of different ethnic backgrounds.
I have a complicated relationship with this musical. The original was weaponized against me because of my heritage. So, I was looking forward to seeing how a modern take on it would be. It definitely improved the original and the things that I found offensive and gross. But my view is tainted because of my first experience. I highly recommend this film to fans of musicals. If you haven't seen a musical before, or maybe just haven't found one you like yet, this one is worth checking out.
I give this film 3 out of 5 stars.
Tomorrow for the TV Tuesday feature, I am reviewing the medical drama series, Private Practice. Next week for the Movie Monday feature, I am reviewing the crime action film, Fistful of Vengeance. Until then keep consuming the cinema; Nerd out!
Connect with me on social media:
If you would like to support this blog, please share it with your friends and family. You can also support this blog for as little as $1/month on Patreon. By being a supporter on Patreon you will receive rewards and access to exclusive content. All support received through Patreon goes towards the costs associated with the blog. https://www.patreon.com/tshathaway