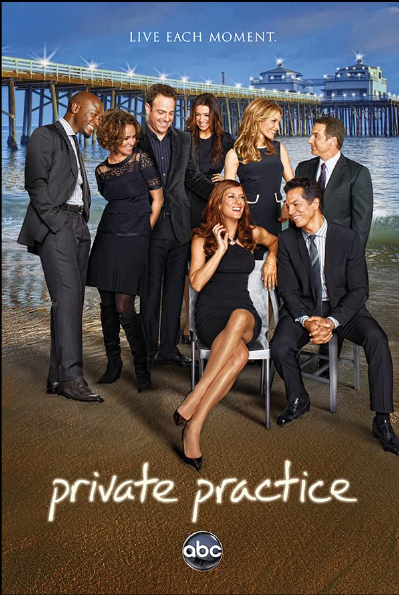 This week for the TV Tuesday feature, I am reviewing the medical drama series, Private Practice. This show ran from 2007 to 2013. It is rated TV-14 for the following reasons: moderate sex & nudity; moderate violence & gore; mild profanity; mild alcohol/drugs/smoking; mild frightening & intense scenes. There are 6 seasons for a total of 112 episodes. Each episode has a running time of approximately 48 minutes. Starring in this series are Kate Walsh, Paul Adelstein, and KaDee Strickland. The following overview is provided from the IMDB page: A spin-off of the medical drama "Grey's Anatomy" centering on the life of neonatal surgeon Addison Montgomery.
I enjoyed this show when it originally aired and while not everything has aged well, there is something raw and real about this show that makes it rewatchable. Since this show centered around a medical practice and not a hospital, I think it brought in more human aspects to stories that at the time were lacking in the Grey's Anatomy world. My favorite character is Charlotte King. She was one that had to grow on me, but she became a favorite that I wonder about from time to time. Also, in rewatching this show having lived what feels like a lifetime since it aired, I have a new respect and understanding of the raw emotions they had the characters go through. This show didn't give the Disney effect to scary life-altering situations. It gave the real and raw fallout that many everyday people feel when they go through the same situations. I have a lot of respect for the writers and characters for taking on such heavy topics and allowing portions of the audience to feel seen in their experiences.
I give this show 4 out of 5 stars.
Tomorrow for the Missing Person Wednesday feature, I am highlighting the missing person's case of Brittney Nicole Wood. Next week for the TV Tuesday feature, I am reviewing the family adventure series, So Weird. Until then keep binge watching the episodes; Nerd out!
Connect with me on social media:
If you would like to support this blog, please share it with your friends and family. You can also support this blog for as little as $1/month on Patreon. By being a supporter on Patreon you will receive rewards and access to exclusive content. All support received through Patreon goes towards the costs associated with the blog. https://www.patreon.com/tshathaway