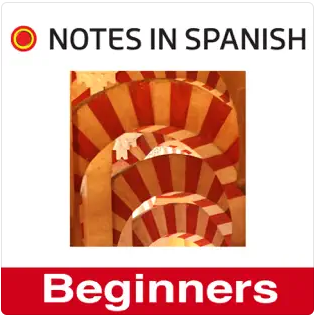 This week for the Spotcast Sunday feature, I am reviewing the language education podcast, Learn Spanish: Notes in Spanish Inspired Beginners. This show was last updated in August 2008. There are 30 episodes to listen to at the time of writing. The following overview is provided from the Apple Podcast page: Ben and Marina bring you real conversations and natural language to help you start speaking the Spanish you'll never find in a text book. With over 100 Spanish podcasts to their names with the popular Intermediate and Advanced series, the "Inspired Beginners" podcasts are for motivated learners who want to sound like pros! See notesinspanish.com for full details and the accompanying worksheets.
This is a great podcast. The structure makes the lessons easy to follow. It is a great podcast for beginners. It can also be used as a refresher for intermediates who are getting back into learning. Highly recommend this podcast.
I give this podcast 4 out of 5 stars.
Tomorrow for the Movie Monday feature, I am reviewing the animated adventure film, Turning Red. Next week for the Spotcast Sunday feature, I am reviewing the true crime podcast, Your Own Backyard. Until then keep listening on; Nerd Out.
Connect with me on social media:
If you would like to support this blog, please share it with your friends and family. You can also support this blog for as little as $1/month on Patreon. By being a supporter on Patreon you will receive rewards and access to exclusive content. All support received through Patreon goes towards the costs associated with the blog. https://www.patreon.com/tshathaway