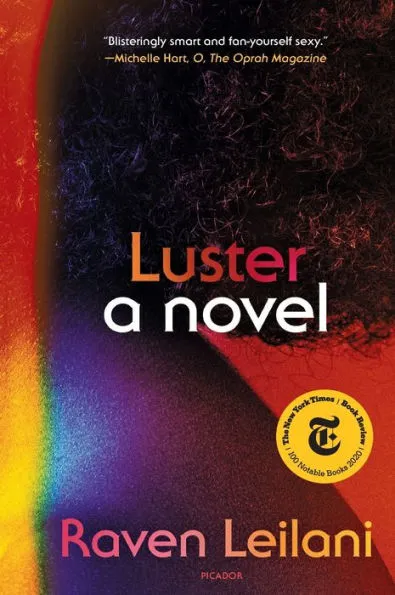 This week for the Fiction Friday feature, I am reviewing the literary fiction novel, Luster by Raven Leilani. This book was published in August 2020 by Farrar, Straus, & Giroux and has a page count of 240 pages. The audiobook is read by Ariel Blake and is 6 hours & 39 minutes in length. The following overview is provided from the B&N page: No one wants what no one wants. And how do we even known what we want? How do we know we're ready to take it? Edie is stumbling her way through her twenties—sharing a subpar apartment in Bushwick, clocking in and out of her admin job, making a series of inappropriate sexual choices. She is also haltingly, fitfully giving heat and air to the art that simmers inside her. And then she meets Eric, a digital archivist with a family a New Jersey, including an autopsist wife who has agreed to an open marriage—with rules. As if navigating the constantly shifting landscapes of contemporary sexual manners and racial politics weren't hard enough, Edie finds herself unemployed and invited into Eric's home—though not by Eric. She becomes a hesitant ally to his wife and a de facto role model to his adopted daughter. Edie may be the only Black woman young Akila knows.
This was a very emotional read for me. The complexity of the characters and the story takes you on a journey. As I read, I would think that the story would head in a certain direction but as more information is revealed the direction changes. I didn't know what to expect and was surprised by the ending. I really enjoyed this novel and I highly recommend it to those who enjoy complex characters on emotional inner journeys.
I give this book 4.5 out of 5 stars.
Tomorrow for the Missing Person Saturday feature, I am highlighting the missing person's case of Jonghyon Won. Next week for the Fiction Friday feature, I am reviewing the memoir, Crying in H Mart by Michelle Zauner. Until then keep reading on; Nerd out!
Connect with me on social media:
If you would like to support this blog, please share it with your friends and family. You can also support this blog for as little as $1/month on Patreon. By being a supporter on Patreon you will receive rewards and access to exclusive content. All support received through Patreon goes towards the costs associated with the blog. https://www.patreon.com/tshathaway