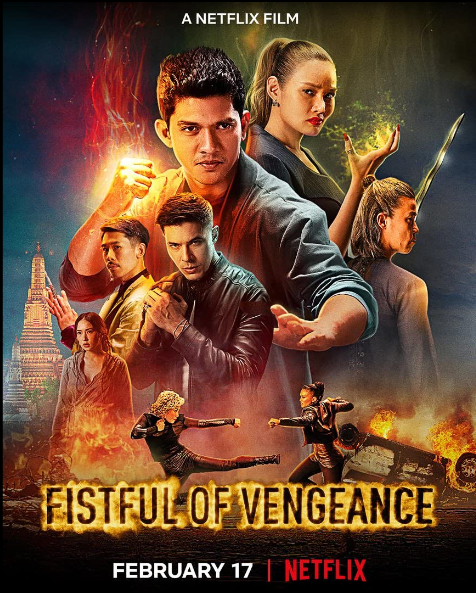 This week for the Movie Monday feature, I am reviewing the crime action film, Fistful of Vengeance. This movie was released in 2022 and has a running time of 1 hour & 36 minutes. This film is rated TV-MA for the following reasons: mild sex & nudity; severe violence & gore; moderate profanity; and mild frightening & intense scenes. Starring in this movie are Iko Uwais, Lewis Tan, and Lawrence Kao. The following overview is provided from the IMDB page: Kai Jin, a young Chinatown chef in present day San Francisco, becomes entangled with the Chinese Triad's pursuit of deadly ancient powers known as the "Wu Xing."
I was disappointed when it seemed that Netflix had once again abandoned a show, I loved with the Wu Assassins. So, when this film popped up as a continuation of the story from that show, I was pleasantly surprised. I enjoyed this film just as I did the show. For me, there is enough balance between action and story that makes this very watchable. Don't worry if you haven't seen the show. They give you enough information so you are not lost as to what is going on.
I give this film 4 out of 5 stars.
Tomorrow for the TV Tuesday feature, I am reviewing the family adventure series, So Weird. Next week for the Movie Monday feature, I am reviewing the action-adventure film, The Adam Project. Until then keep consuming the cinema; Nerd out!
Connect with me on social media:
If you would like to support this blog, please share it with your friends and family. You can also support this blog for as little as $1/month on Patreon. By being a supporter on Patreon you will receive rewards and access to exclusive content. All support received through Patreon goes towards the costs associated with the blog. https://www.patreon.com/tshathaway