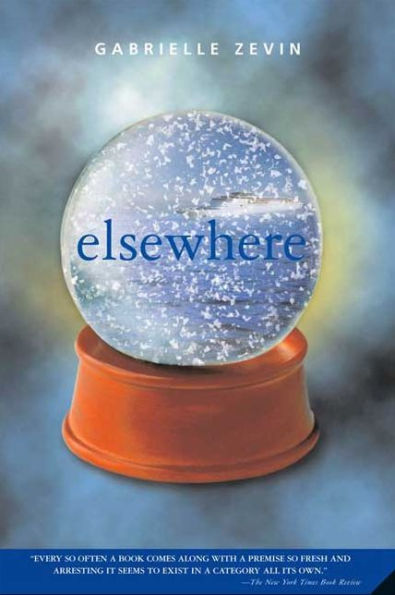 This week for the Fiction Friday feature, I am reviewing the young adult magical realism novel, Elsewhere by Gabrielle Zevin. This book was published in September 2005 by Farrar Straus Giroux and has a page count of 277 pages. The audiobook is read by Cassandra Morris and is 7 hours & 22 minutes in length. The following overview is provided from the B&N page: Welcome to Elsewhere. It is warm, with a breeze, and the beaches are marvelous. It's quiet and peaceful. You can't get sick or any older. Curious to see new paintings by Picasso? Swing by one of Elsewhere's museums. Need to talk to someone about your problems? Stop by Marilyn Monroe's psychiatric practice. Elsewhere is where fifteen-year-old Liz Hall ends up, after she has died. It is a place so like Earth, yet completely different, Here Liz will age backward from the day of her death until she becomes a baby again and returns to Earth. But Liz wants to turn sixteen, not fourteen again. She wants to get her driver's license. She wants to graduate from high school and go to college. And now that she's dead, Liz is being forced to live a life she doesn't want with a grandmother she has only just met. And it is not going well. How can Liz let go of the only life she has ever known and embrace a new one? Is it possible that a life lived in reverse is no different from a life lived forward?
This is a brilliant and beautiful story. I loved the message of the story. There is a real magical quality to the writing. I will be rereading this one again in the future. I highly recommend this book to anyone looking for a book set in the afterlife.
I give this book 4 out of 5 stars.
Tomorrow for the Missing Person Saturday feature, I am highlighting the missing person's case of Rolenia Adele Morris. Next week for the Fiction Friday feature, I am reviewing the literary fiction novel, Luster by Raven Leilani. Until then keep reading on; Nerd out!
Connect with me on social media:
If you would like to support this blog, please share it with your friends and family. You can also support this blog for as little as $1/month on Patreon. By being a supporter on Patreon you will receive rewards and access to exclusive content. All support received through Patreon goes towards the costs associated with the blog. https://www.patreon.com/tshathaway