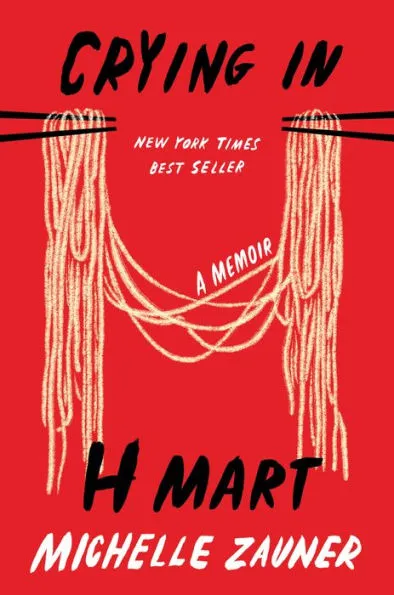 This week for the Fiction Friday feature, I am reviewing the memoir, Crying in H Mart by Michelle Zauner. This book was published in April 2021 by Alfred A. Knopf and has a page count of 256 pages. The audiobook is read by Michelle Zauner and is 7 hours & 23 minutes in length. The following overview is provided from the B&N page: In this exquisite story of family, food, grief, and endurance, Michelle Zauner proves herself far more than a dazzling singer, songwriter, and guitarist. With humor and heart, she tells of growing up one of the few Asian American kids at her school in Eugene, Oregon; of struggling with her mother's particular, high expectations of her; of a painful adolescence; of treasured months spent in her grandmother's tiny apartment in Seoul, where she and her mother would bond, late at night, over heaping plates of food. As she grew up, moving to the East Coast for college, finding work in the restaurant industry, and performing gigs with her fledgling band—and meeting the man who would become her husband—her Koreanness began to feel ever more distant, even as she found the life she wanted to live. It was her mother's diagnosis of terminal cancer, when Michelle was twenty-five, that forced a reckoning with her identity and brought her to reclaim the gifts of taste, language, and history her mother had given her.
This was an absolutely beautifully written memoir. I found the reflections and perspectives moving and heartfelt. I think many of us struggle to relate and find common ground as adults with our parents. This can be for various reasons, yet I believe more common than talked about. I like how the author ties each moment's story to each other with a delicate intricacy. This book made me think about conversations I could have had if understanding and people had been different in my own life. I cannot recommend this beautiful book enough.
I give this book 4 out of 5 stars.
Tomorrow for the Missing Person Saturday feature, I am highlighting the missing person's case of Alicia Sanchez Serrano. Next week for the Fiction Friday feature, I am reviewing the fictional short story, Death by Scrabble by Charlie Fish. Until then keep reading on; Nerd out!
Connect with me on social media:
If you would like to support this blog, please share it with your friends and family. You can also support this blog for as little as $1/month on Patreon. By being a supporter on Patreon you will receive rewards and access to exclusive content. All support received through Patreon goes towards the costs associated with the blog. https://www.patreon.com/tshathaway