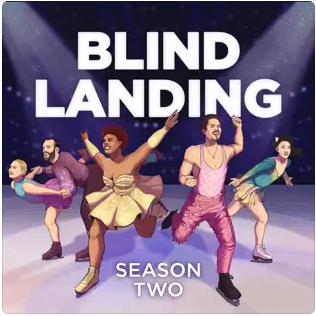 This week for the Spotcast Sunday feature, I am reviewing the society & culture podcast, Blind Landing. This show debuted in July 2021. There are 15 episodes to listen to at the time of writing. The following overview is provided from the Apple Podcast page: Blind Landing is a documentary podcast about elite sports. Season Two is a thought-provoking deep dive into the world of figure skating. Behind the scenes, behind the jumps and spins and sequins is a shocking culture of exclusion, discrimination and prejudice. These are the stories of skaters who became the change they wanted to see in the sport. This critically-acclaimed series has been featured in The New York Times, Rolling Stone and was named one of The Atlantic's Best Podcasts of 2021.
I found this podcast fascinating. There was so much information presented but in an easy-to-follow format. I appreciated when they included summaries and recaps to make sure that the listener understood the points being made. I think this is a fantastic podcast to listen to. The structure and format make sense, everything flows in a cohesive manner. I like that they include interviews with people who were there and had first-hand knowledge. Highly recommend.
I give this podcast 4 out of 5 stars.
Tomorrow for the Movie Monday feature, I am reviewing the action-adventure film, The Adam Project. Next week for the Spotcast Sunday feature, I am reviewing the sports podcast, Snark Marks Podcast. Until then keep listening on; Nerd Out.
Connect with me on social media:
If you would like to support this blog, please share it with your friends and family. You can also support this blog for as little as $1/month on Patreon. By being a supporter on Patreon you will receive rewards and access to exclusive content. All support received through Patreon goes towards the costs associated with the blog. https://www.patreon.com/tshathaway