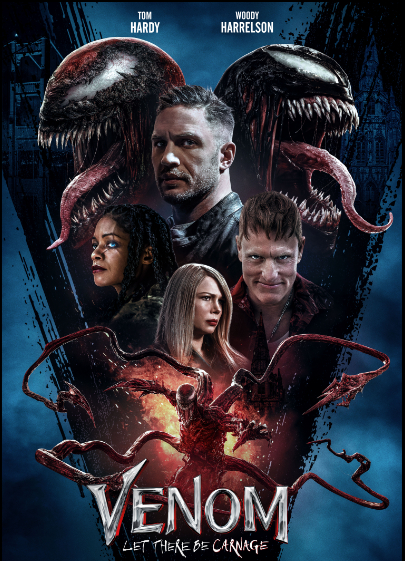 This week for the Movie Monday feature, I am reviewing the action-adventure film, Venom: Let There Be Carnage. This movie was released in 2021 and has a running time of 1 hour & 37 minutes. This film is rated PG-13 for the following reasons: moderate violence & gore; moderate profanity; mild alcohol/drugs/smoking; and moderately frightening & intense scenes. Starring in this movie are Tom Hardy, Woody Harrelson, and Michelle Williams. The following overview is provided from the IMDB page: Eddie Brock attempts to reignite his career by interviewing serial killer Cletus Kasady, who becomes the host of the symbiote Carnage and escapes prison after a failed execution.
I liked this film more than the first one. The reason is that there was a lot more Venom in this film than the previous one. I enjoyed the snark that Venom has when he interacts with Eddie. I liked the story and acting. It's worth checking out if you enjoyed the first one.
I give this film 4.5 out of 5 stars.
Tomorrow for the TV Tuesday feature, I am reviewing the comedic series, Gentefied. Next week for the Movie Monday feature, I am reviewing the comedic drama film, A Madea Homecoming. Until then keep consuming the cinema; Nerd out!
Connect with me on social media:
If you would like to support this blog, please share it with your friends and family. You can also support this blog for as little as $1/month on Patreon. By being a supporter on Patreon you will receive rewards and access to exclusive content. All support received through Patreon goes towards the costs associated with the blog. https://www.patreon.com/tshathaway