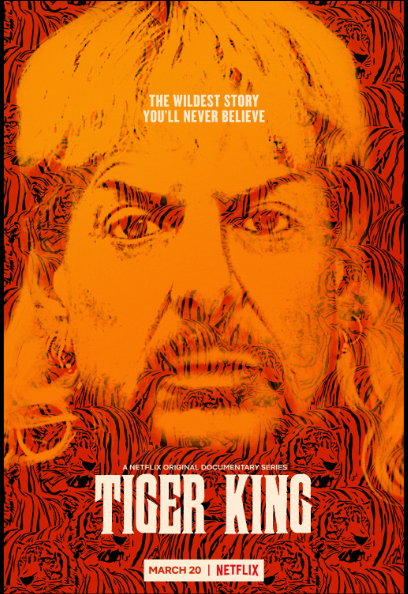 This week for the TV Tuesday feature, I am reviewing the documentary series, Tiger King. This show ran from 2020 to 2021. It is rated TV-MA for the following reasons: mild sex & nudity; moderate violence & gore; severe profanity; moderate alcohol/drugs/smoking; and moderately frightening & intense scenes. There are 2 seasons for a total of 13 episodes. Each episode has a running time of approximately 45 minutes. Starring in this series are Abdullah Saeed Fawaz Al-Kubaisi, Joe Exotic, and Carole Baskin. The following overview is provided from the IMDB page: A rivalry between big cat eccentrics takes a dark turn when Joe Exotic, a controversial animal park boss, is caught in a murder-for-hire plot.
Wow. There is so much to say and yet not. This show just highlights problematic people who should not be allowed to have such primal animals under their care. This show is so graphic and includes traumatic scenes that I don't think were necessary to include. Watch if you want but it's not one I would recommend.
I give this show 3 out of 5.
Tomorrow for the Missing Person Wednesday feature, I am highlighting the missing person's case of Brittany Shante Robinson. Next week for the TV Tuesday feature, I am reviewing the crime drama series, How To Get Away With Murder. Until then keep binge watching the episodes; Nerd out!
Connect with me on social media:
If you would like to support this blog, please share it with your friends and family. You can also support this blog for as little as $1/month on Patreon. By being a supporter on Patreon you will receive rewards and access to exclusive content. All support received through Patreon goes towards the costs associated with the blog. https://www.patreon.com/tshathaway