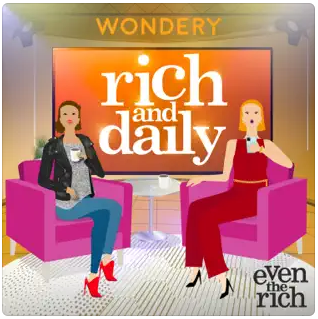 This week for the Spotcast Sunday feature, I am reviewing the society & culture podcast, Rich & Daily. This show debuted in June 2021. There are 236 episodes to listen to at the time of writing. The following overview is provided from the Apple Podcast page: We're obsessed with the daily gossip about the famous and infamous. From the twists and turns of #FreeBritney to the latest Royal Family dust-up, RICH AND DAILY is your doe of the hottest celeb news as it happens. Brooke Siffrinn and Aricia Skidmore-Williams, hosts of the hit series Even the Rich, spill the tea, dish the dirt, and tell you exactly what they think. New episodes drop every Monday through Friday.
If you love celebrity gossip, I highly recommend this podcast. This daily podcast takes the top story of the day and breaks down everything you need to know in a bite-size episode. I love the hosts; their energy is infectious. There are so many episodes that I find myself giggling along with them. They show the right amount of respect and seriousness when the topic calls for it.
I give this podcast 4 out of 5 stars.
Tomorrow for the Movie Monday feature, I am reviewing the documentary film, Found. Next week for the Spotcast Sunday feature, I am reviewing the education podcast, The Reference Desk. Until then keep listening on; Nerd Out.
Connect with me on social media:
If you would like to support this blog, please share it with your friends and family. You can also support this blog for as little as $1/month on Patreon. By being a supporter on Patreon you will receive rewards and access to exclusive content. All support received through Patreon goes towards the costs associated with the blog. https://www.patreon.com/tshathaway