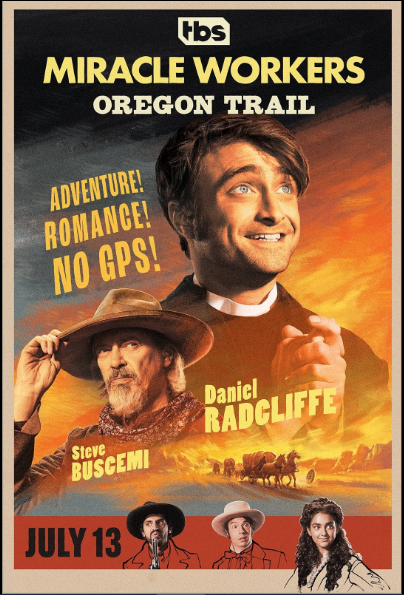 This week for the TV Tuesday feature, I am reviewing the comedic drama series, Miracle Workers. This show debuted in 2019. It is rated TV-14 for the following reasons: mild violence & gore; mild profanity; mild alcohol/drugs/smoking; and mild frightening & intense scenes. There are 3 seasons for a total of 27 episodes. Each episode has a running time of approximately 20 minutes. Starring in this series are Daniel Radcliffe, Geraldine Viswanathan, and Karan Soni. The following overview is provided from the IMDB page: An anthology series. Season one: a comedy set in the offices of Heaven, Inc. When God plans to destroy the Earth, two low-level angels must convince their boss to save humanity. They bet him they can pull off their most impossible miracle yet: help two humans fall in love.
I love the structure of this show. I enjoy each of the seasons for very different reasons. I love the cast and I love to see the different types of characters they end up playing. This show is witty and light-hearted. I highly recommend it.
I give this show 4 out of 5 stars.
Tomorrow for the Missing Person Wednesday feature, I am highlighting the missing person's case of Stephen Allen Ducat. Next week for the TV Tuesday feature, I am reviewing the documentary series, Tiger King. Until then keep binge watching the episodes; Nerd out!
Connect with me on social media:
If you would like to support this blog, please share it with your friends and family. You can also support this blog for as little as $1/month on Patreon. By being a supporter on Patreon you will receive rewards and access to exclusive content. All support received through Patreon goes towards the costs associated with the blog. https://www.patreon.com/tshathaway