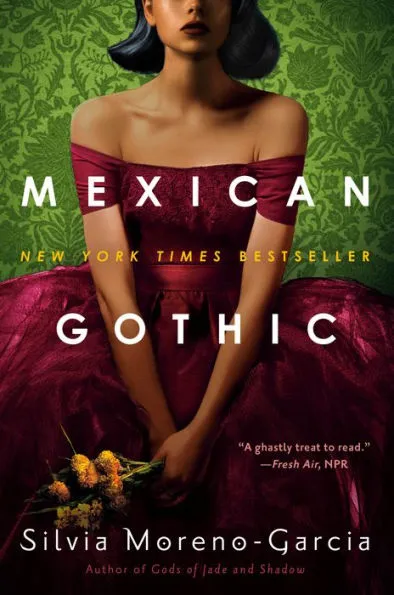 This week for the Fiction Friday feature, I am reviewing the horror novel, Mexican Gothic by Silvia Moreno-Garcia. This book was published in June 2020 by Random House and has a page count of 320 pages. The audiobook is read by Frankie Corzo and is 10 hours & 39 minutes in length. The following overview is provided from the B&N page: After receiving a frantic letter from her newly-wed cousin begging for someone to save her from a mysterious doom, Noemi Taboada heads to High Place, a distant house in the Mexican countryside. She's not sure what she will find—her cousin's husband, a handsome Englishman, is a stranger, and Noemi knows little about the region. Noemi is also an unlikely rescuer: She's a glamorous debutante, and her chic gowns and perfect red lipstick are more suited for cocktail parties than amateur sleuthing. But she's also tough and smart, with an indomitable will, and she is not afraid: Not of her cousin's new husband, who's both menacing and alluring; not of his father, the ancient patriarch who seems to be fascinated by Noemi; and not even of the house itself, which begins to invade Noemi's dreams with visions of blood and doom. Her only ally in this inhospitalable abode is the family's youngest son. Shy and gentle, he seems to want to help Noemi, but might also be hiding dark knowledge of his family's past. For there are many secrets behind the walls of High Place. The family's once colossal wealth and faded mining empire kept them from prying eyes, but as Noemi digs deeper she unearths stories of violence and madness. And Noemi, mesmerized by the terrifying yet seductive world of High Place, may soon find it impossible to ever leave this enigmatic house behind.
I loved this book. It was beautifully written, and I loved learning all the cultural aspects of Mexico that were included. I will be rereading this book again in the future. I enjoyed it so much; that I finished in it a single sitting. The story kept me on the edge of my seat. The characters had a mystical yet realness to them that made me want to stay with them long. To learn from them and experience the world through their eyes. I highly recommend this novel.
I give this book 4 out of 5 stars.
Tomorrow for the Missing Person Saturday feature, I am highlighting the missing person's case of Hilaria Marmolejo. Next week for the Fiction Friday feature, I am reviewing the fantasy novel, Wolves of the Calla by Stephen King. Until then keep reading on; Nerd out!
Connect with me on social media:
If you would like to support this blog, please share it with your friends and family. You can also support this blog for as little as $1/month on Patreon. By being a supporter on Patreon you will receive rewards and access to exclusive content. All support received through Patreon goes towards the costs associated with the blog. https://www.patreon.com/tshathaway