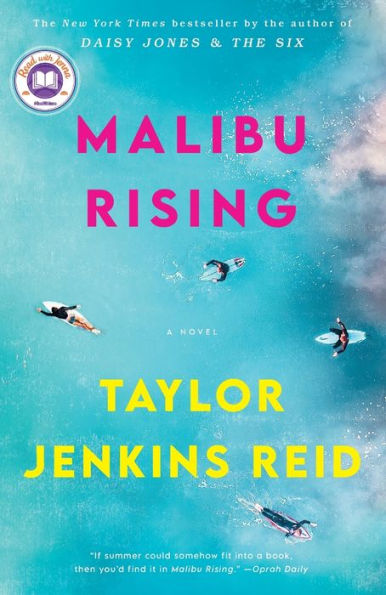 This week for the Fiction Friday feature, I am reviewing the historical fiction novel, Malibu Rising by Taylor Jenkins Reid. This book was published in May 2021 by Random House and has a page count of 400 pages. The audiobook is read by Julia Whelan and is 11 hours & 5 minutes in length. The following overview is provided from the B&N page: Malibu: August 1983. It's the day of Nina Riva's annual end-of-summer party, and anticipation is at a fever pitch. Everyone wants to be around the famous Rivas: Nina, the talented surfer and supermodel; brothers Jay and Hud, one a championship surfer, the other a renowned photographer; and their adored baby sister, Kit. Together the siblings are a source of fascination in Malibu and the world over—especially as the offspring of the legendary singer Mick Riva. The only person not looking forward to the party of the year is Nina herself, who never wanted to be the center of attention, and who has also just been very publicly abandoned by her pro tennis player husband. Oh, and maybe Hud—because it is long past time for him to confess something to the brother from whom he's been inseparable since birth. Jay, on the other hand, is counting the minutes until nightfall, when the girl he can't stop thinking about promised she'll be there. And Kit has a couple secrets of her own—including a guest she invited without consulting anyone. By midnight the party will be completely out of control. By morning, the Riva mansion will have gone up in flames. But before that first spark in the early hours before dawn, the alcohol will flow, the music will play, and the loves and secretes that shaped this family's generations will all come rising to the surface.
I loved this book. I thought the storytelling was brilliant and made me feel like I was right there with the characters experiencing the story. The characters were relatable and well-written. The story had everything I could want from such a story. It is beautiful and masterful in so many aspects. I highly recommend this book to everyone.
I give this book 4 out of 5 stars.
Tomorrow for the Missing Person Saturday feature, I am highlighting the missing person's case of Kiela Elleana Gray. Next week for the Fiction Friday feature, I am reviewing the family epic novel, Shark Dialogues by Kiana Davenport. Until then keep reading on; Nerd out!
Connect with me on social media:
If you would like to support this blog, please share it with your friends and family. You can also support this blog for as little as $1/month on Patreon. By being a supporter on Patreon you will receive rewards and access to exclusive content. All support received through Patreon goes towards the costs associated with the blog. https://www.patreon.com/tshathaway