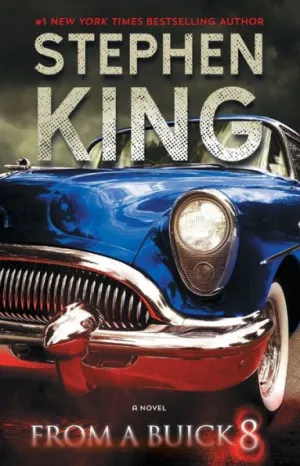 This week for the Fiction Friday feature, I am reviewing the horror novel, From Buick 8 by Stephen King. This book was published in September 2002 by Gallery Books and has a page count of 468 pages. The audiobook is read by James Rebhorn, Bruce Davison, & Becky Ann Baker and is 13 hours & 23 minutes in length. The following overview is provided from the B&N page: Since 1979, the state police of Troop D in rural Pennsylvania have kept a secret in the shed out behind the barracks. Ennis Rafferty and Curtis Wilcox had answered a strange call just down the road and came back with an abandoned 1953 Buick Roadmaster. Curt Wilcox knew old cars, and this one was…just wrong. As it turned out, the Buick 8 was worse than dangerous—and the members of Troop D decided that it would be better if the public never found out about it. Now, more than twenty years later, Curt's son Ned starts hanging around the barracks and is allowed into the Troop D family. And one day he discovers the family secret—a mystery that begins to stir once more, not only in the minds and hearts of these veteran troopers, but out in the shed as well, for there's more power under the hood than anyone can handle…
This novel has a more "chill" vibe to it than a lot of the other King novels I have read. It's a haunted object story and they're not always my favorite. I did like the story and enjoyed it like I have all the other King pieces I have read to date. It is just not a favorite of mine. I recommend it to those who want to read a King book but one that maybe isn't as dark as a lot of his pieces.
I give this book 3.75 out of 5 stars.
Tomorrow for the Missing Person Saturday feature, I am highlighting the missing person's case of Breion J'Maale Davis. Next week for the Fiction Friday feature, I am reviewing the historical fiction novel, Malibu Rising by Taylor Jenkins Reid. Until then keep reading on; Nerd out!
Connect with me on social media:
If you would like to support this blog, please share it with your friends and family. You can also support this blog for as little as $1/month on Patreon. By being a supporter on Patreon you will receive rewards and access to exclusive content. All support received through Patreon goes towards the costs associated with the blog. https://www.patreon.com/tshathaway