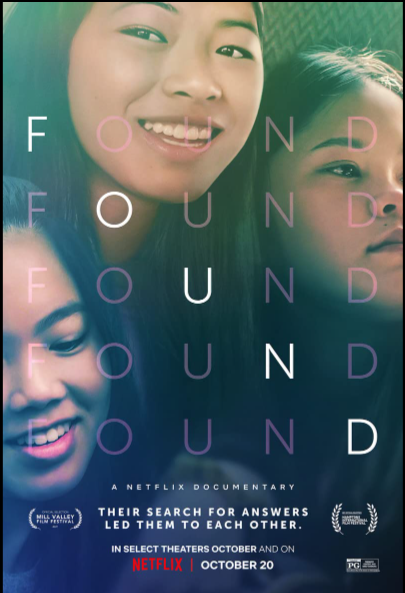 This week for the Movie Monday feature, I am reviewing the documentary film, Found. This movie was released in 2021 and has a running time of 1 hour & 37 minutes. This film is rated PG without any additional information provided on the rating. Starring in this movie are Lily Bolka, Chloe Lipitz, and Sadie Mangelsdorf. The following overview is provided from the IMDB page: The story of three American teenage girls – each adopted from China – who discover they are blood-related cousins on 23andme. Their online meeting inspires the young women to confront the burning questions they have about their lost history.
This film will take you on an emotional rollercoaster. As an adoptee, I felt for the girls as they tried to find answers on where they come from and who they are. I have been there myself. And as technology has advanced, I was lucky enough to find all the missing pieces. However, I have heard numerous stories about the struggles of those adopted overseas to get the same answers I have. I highly recommend this film to everyone to better understand some of the struggles of adoptees when trying to find their roots.
I give this film 5 out of 5 stars.
Tomorrow for the TV Tuesday feature, I am reviewing the comedic drama series, Miracle Workers. Next week for the Movie Monday feature, I am reviewing the action-comedy film, The Lovebirds. Until then keep consuming the cinema; Nerd out!
Connect with me on social media:
If you would like to support this blog, please share it with your friends and family. You can also support this blog for as little as $1/month on Patreon. By being a supporter on Patreon you will receive rewards and access to exclusive content. All support received through Patreon goes towards the costs associated with the blog. https://www.patreon.com/tshathaway