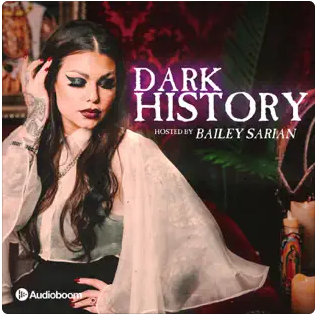 This week for the Spotcast Sunday feature, I am reviewing the history podcast, Dark History. This show debuted in May 2021. There are 47 episodes to listen to at the time of writing. The following overview is provided from the Apple Podcast page: Bailey Sarian, a professional makeup artist & true crime connoisseur, is taking her expertise from her popular YouTube series, Murder, Mystery & Makeup, and expanding into the podcast world with Dark History! Each week, she will explore the chilling stories of the dark past from US and World History that they don't teach you in school!
If you are a fan of Bailey Sarian's Murder, Mystery, & Makeup Mondays on YouTube this podcast is perfect for you. I love Bailey but don't have the ability to always watch her YouTube videos. I love the different stories that Bailey tells. She covers the dark history of a wide variety of topics. I highly recommend this podcast to those into history.
I give this podcast 4 out of 5 stars.
Tomorrow for the Movie Monday feature, I am reviewing the comedic drama film, A Madea Homecoming. Next week for the Spotcast Sunday feature, I am reviewing the society & culture podcast, I Pray You Put This Journal Away. Until then keep listening on; Nerd Out.
Connect with me on social media:
If you would like to support this blog, please share it with your friends and family. You can also support this blog for as little as $1/month on Patreon. By being a supporter on Patreon you will receive rewards and access to exclusive content. All support received through Patreon goes towards the costs associated with the blog. https://www.patreon.com/tshathaway