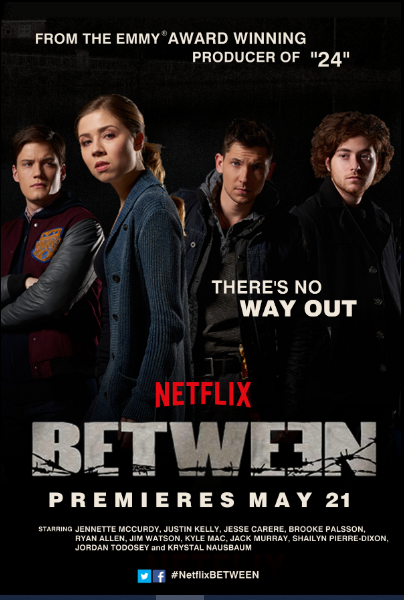 This week for the TV Tuesday feature, I am reviewing the dramatic mystery series, Between. This show ran from 2015 to 2016. It is rated TV-14 for the following reasons: mild violence & gore; mild profanity; and mild frightening & intense scenes. There are 2 seasons for a total of 12 episodes. Each episode has a running time of approximately 44 minutes. Starring in this series are Jennette McCurdy, Jesse Carere, and Justin Kelly. The following overview is provided from the IMDB page: After a mysterious disease kills every resident over 22 years old, survivors of a town must fend for themselves when the government quarantines them.
I loved this show. My only wish is that there had been more. I would have liked to see what happened after the series ended. There were so many places it could have gone. If you want a show that will keep you on the edge of your seat, this show is for you. I absolutely recommend this show.
I give this show 4 out of 5 stars.
Tomorrow for the Missing Person Wednesday feature, I am highlighting the missing person's case of Amber Elaine Fowler. Next week for the TV Tuesday feature, I am reviewing the comedic drama series, Miracle Workers. Until then keep binge watching the episodes; Nerd out!
Connect with me on social media:
Facebook: http://www.facebook.com/tshathaway
Twitter: http://www.twitter.com/Widget2009
Instagram: http://instagram.com/t.s.hathaway
Pinterest: http://www.pinterest.com/widget0712
Goodreads: https://www.goodreads.com/user/show/13651635-ts
If you would like to support this blog, please share it with your friends and family. You can also support this blog for as little as $1/month on Patreon. By being a supporter on Patreon you will receive rewards and access to exclusive content. All support received through Patreon goes towards the costs associated with the blog. https://www.patreon.com/tshathaway