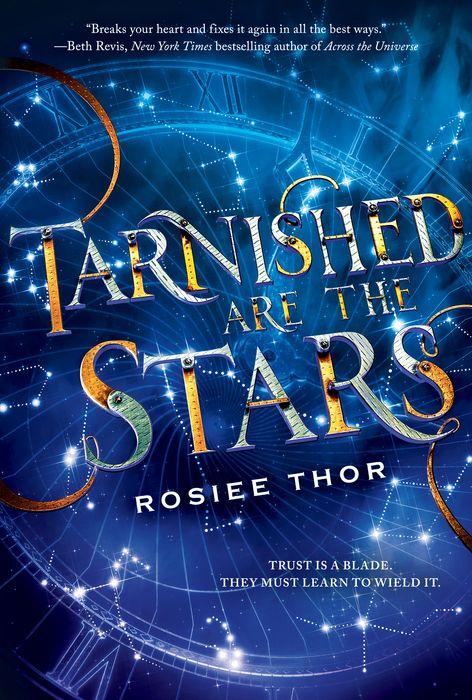 This week for the Fiction Friday feature, I am reviewing the young adult science fiction novel, Tarnished by the Stars by Rosiee Thor. This book was published in December 2009 by Scholastic, Inc. and has a page count of 384 pages. The audiobook is read by Rosie Jones and is 11 hours & 3 minutes in length. The following overview is provided from the B&N page: A secret beats inside Anna Thatcher's chest: an illegal clockwork heart. Anna works cog by cog – donning the moniker Technician – to supply black market medical technology to the sick and injured, against the Commissioner's tyrannical laws. Nathaniel Fremont, the Commissioner's son, has never had to fear the law. Determined to earn his father's respect, Nathaniel sets out to capture the Technician. But the more he learns about the outlaw, the more he questions whether his father's elusive affection is worth chasing at all. Their game of cat and mouse takes an abrupt turn when Eliza, a skilled assassin and spy, arrives. Her mission is to learn the Commissioner's secrets at any cost – even if it means betraying her own heart. When these uneasy allies discover the most dangerous secret of all, they must work together despite their differences and put an end to a deadly epidemic before the Commissioner ends them first.
It took a little bit for me to adjust to the changing perspectives. However, this is a phenomenal book. The changing of perspectives helps the reader understand the stakes the characters are facing. Clever misdirection is used a few times to keep you guessing who the real villains of the story are. If you had the chance to read Cinder, which I previously reviewed, and enjoyed, this book is another great one for you. There is a line in the book that I think best sums up the journey the characters must go through: "Trust is a blade. They must learn to wield it." Highly recommend this novel.
I give this book 4.5 out of 5 stars.
Tomorrow for the Missing Person Saturday feature, I am highlighting the missing person's case of Willie George White. Next week for the Fiction Friday feature, I am reviewing the fiction novel, The Joy Luck Club by Amy Tan. Until then keep reading on; Nerd out!
Connect with me on social media:
If you would like to support this blog, please share it with your friends and family. You can also support this blog for as little as $1/month on Patreon. By being a supporter on Patreon you will receive rewards and access to exclusive content. All support received through Patreon goes towards the costs associated with the blog. https://www.patreon.com/tshathaway