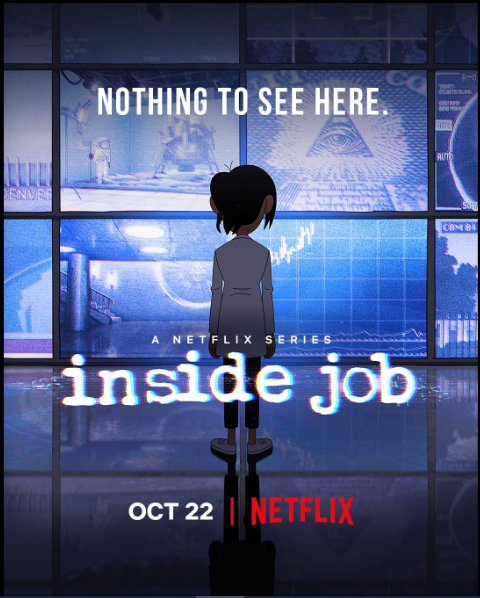 This week for the TV Tuesday feature, I am reviewing the animated comedy series, Inside Job. This show debuted in 2021. It is rated TV-MA for the following reasons: moderate sex & nudity; moderate violence & gore; severe profanity; moderate alcohol/drugs/smoking; and mild frightening & intense scenes. There are 1 season for a total of 10 episodes. Each episode has a running time of approximately 26 minutes. Starring in this series are Lizzy Caplan, Christian Slater, and Clark Duke. The following overview is provided from the IMDB page: For employees of the Deep State, conspiracies aren't just theories, they're facts. And keeping them a secret is a full-time job.
This show is hilarious. If you enjoy laughing at the most ridiculous conspiracy theories, you will enjoy this show. I think the animation style fits with the premise of the show. I love the cast; they bring a certain magic to the show with their performances. This show will keep you laughing and I recommend it.
I give this show 4 out of 5 stars.
Tomorrow for the Missing Person Wednesday feature, I am highlighting the missing person's case of Kirkland C. Young. Next week for the TV Tuesday feature, I am reviewing the comedy series, Gentefied. Until then keep binge watching the episodes; Nerd out!
Connect with me on social media:
If you would like to support this blog, please share it with your friends and family. You can also support this blog for as little as $1/month on Patreon. By being a supporter on Patreon you will receive rewards and access to exclusive content. All support received through Patreon goes towards the costs associated with the blog. https://www.patreon.com/tshathaway