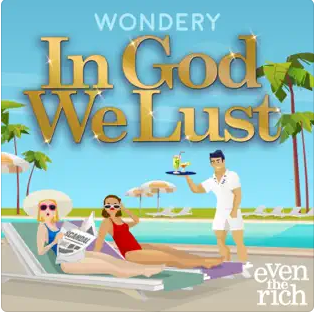 This week for the Spotcast Sunday feature, I am reviewing the society & culture podcast, In God We Lust. This show was last updated in August 2021. This podcast has an explicit language warning. There are 11 episodes to listen to at the time of writing. The following overview is provided from the Apple Podcast page: A luxury hotel pool attendant in Miami meets a married couple. The wife starts flirting with the young man…and pretty soon he is caught up in a love triangle, one that will have far-reaching results. The husband is Jerry Falwell Jr., a member of one of the most famous evangelical families in America and president of a Christian University with a strict code of conduct. The affair is part of a pattern of questionable behavior that will threaten the Falwell family dynasty.
This podcast does a great job of presenting the events of Falwell's fall from grace within the Liberty universe. It breaks down how the scandal broke and the fallout for Falwell afterward. I have to say that I have personal connections to Liberty and the scandal. And I appreciate this podcast's take on it. Highly recommend.
I give this podcast 4 out of 5 stars.
Tomorrow for the Movie Monday feature, I am reviewing the comedic adventure film, Ghostbusters: Afterlife. Next week for the Spotcast Sunday feature, I am reviewing the language education podcast, Survival Guide Learn to Speak Spanish. Until then keep listening on; Nerd Out.
Connect with me on social media:
If you would like to support this blog, please share it with your friends and family. You can also support this blog for as little as $1/month on Patreon. By being a supporter on Patreon you will receive rewards and access to exclusive content. All support received through Patreon goes towards the costs associated with the blog. https://www.patreon.com/tshathaway