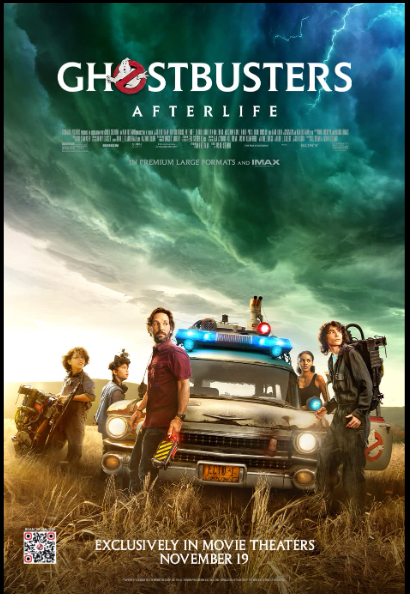 This week for the Movie Monday feature, I am reviewing the comedy adventure film, Ghostbusters: Afterlife. This movie was released in 2021 and has a running time of 2 hours & 4 minutes. This film is rated PG-13 for the following reasons: mild violence & gore; mild profanity; and moderate frightening & intense scenes. Starring in this movie are Carrie Coon, Paul Rudd, and Finn Wolfhard. The following overview is provided from the IMDB page: When a single mom and her two kids arrive in a small town, they begin to discover their connection to the original Ghostbusters and the secret legacy their grandfather left behind.
This was an adorable movie. I like how they connected it to the original Ghostbuster films of my childhood. I love the cast. However, I loved the story most of all. It was a beautiful tribute to the past while moving the franchise into the future. This is a great film for a family that enjoys spooky things.
I give this film 4.5 out of 5 stars.
Tomorrow for the TV Tuesday feature, I am reviewing the documentary series, Dark Side of the Ring. Next week for the Movie Monday feature, I am reviewing the action-adventure film, Free Guy. Until then keep consuming the cinema; Nerd out!
Connect with me on social media:
If you would like to support this blog, please share it with your friends and family. You can also support this blog for as little as $1/month on Patreon. By being a supporter on Patreon you will receive rewards and access to exclusive content. All support received through Patreon goes towards the costs associated with the blog. https://www.patreon.com/tshathaway