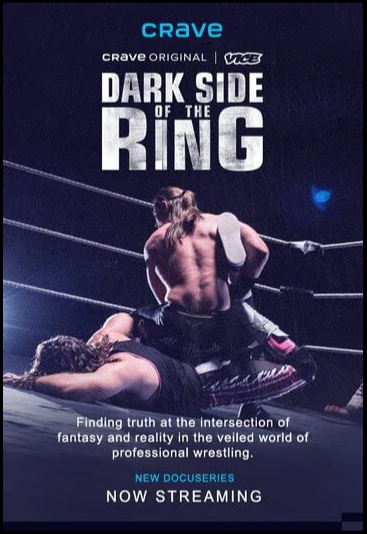 This week for the TV Tuesday feature, I am reviewing the documentary series, Dark Side of the Ring. This show debuted in 2019. It is rated TV-14 for the following reasons: severe violence & gore; and moderate profanity. There are 3 seasons for a total of 30 episodes. Each episode has a running time of approximately 44 minutes. Starring in this series are Chris Jericho, Steve Kasan, and James E. Cornette. The following overview is provided from the IMDB page: From backstage controversies to mysterious deaths and unsolved homicides, this series explores the darkest stories from the golden age of professional wrestling, and tries to find truth at the intersection of fantasy and reality.
If you enjoy pro wrestling, this show is for you. This shows the dark side of sports entertainment. There were stories I had never heard before on this show. But they also cover better-known ones, that include details I had never heard before. This show highlights why I have a ton of respect for these wrestlers while also not waiting to celebrate all of them. There are pitfalls to anyone's job but there is an especially dark side to sports entertainment.
I give this show 4 out of 5 stars.
Tomorrow for the Missing Person Wednesday feature, I am highlighting the missing person's case of Lisa Marie Wallace. Next week for the TV Tuesday feature, I am reviewing the animated comedy series, Inside Job. Until then keep binge watching the episodes; Nerd out!
Connect with me on social media:
If you would like to support this blog, please share it with your friends and family. You can also support this blog for as little as $1/month on Patreon. By being a supporter on Patreon you will receive rewards and access to exclusive content. All support received through Patreon goes towards the costs associated with the blog. https://www.patreon.com/tshathaway