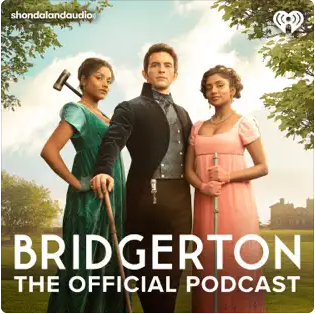 This week for the Spotcast Sunday feature, I am reviewing the TV & film podcast, Bridgerton the Official Podcast. This show debuted in February 2021. There are 25 episodes to listen to at the time of writing. The following overview is provided from the Apple Podcast page: "Bridgerton: The Official Podcast" is your official peek behind the curtain of Shondaland's Bridgerton series. Much like Lady Whistledown we'll gossip about how the show was created and have conversations around Bridgerton's storyline, music, the costumes and sets, this historical context of the era and so much more!
This is a great companion podcast to the Bridgerton show. I love hearing all the behind-the-scenes information. Cast interviews are some of my favorites. Hearing about the connections between the actor and their character as well as the headspace they get into to play the role, makes me appreciate their work on the show even more. I also love to hear how the prop and costume departments source the inspiration for what they use in the show. Highly recommend this podcast if you are a fan of the show.
I give this podcast 4 out of 5 stars.
Tomorrow for the Movie Monday feature, I am reviewing the comedy romance film, The Wrong Missy. Next week for the Spotcast Sunday feature, I am reviewing the society & culture podcast, In God We Lust. Until then keep listening on; Nerd Out.
Connect with me on social media:
If you would like to support this blog, please share it with your friends and family. You can also support this blog for as little as $1/month on Patreon. By being a supporter on Patreon you will receive rewards and access to exclusive content. All support received through Patreon goes towards the costs associated with the blog. https://www.patreon.com/tshathaway